Is your team in need of a day out of the office? Or are you looking for a fun activity to entertain clients?
While a dinner, ball game, or happy hour is always easy, Cincinnati now offers a wide variety of unique and exciting team building activities to fit every team.
According to the Harvard Business Review,  "With remarkable consistency, the data confirmed that communication indeed plays a critical role in building successful teams. In fact, we've found patterns of communication to be the most important predictor of a team's success."
So with that in mind, what's the best way to improve communication within your team? A fun team outing that gets everyone mixed up (ie, not sitting next to the people they're already most comfortable with) and playing together.
Without further ado, here are our top 11 fun team building ideas to consider in Cincinnati!
1) Play dodgeball with bows and (foam-tipped) arrows
We're obviously a bit biased here, so we'll go ahead and get that out of the way first.
Archery Arena hosts a game called archery dodgeball at a dedicated indoor arena (the first of its kind in the midwest!) in West Chester.  Just opened last year, Archery Arena is one of the newest team building activities on the list.
Archery Dodgeball is basically exactly what it sounds like; old school dodgeball, only played with bows and specially engineered foam-tipped arrows! Each session starts with instruction on how to shoot a bow and arrow, then progresses to a mix of game modes designed to keep competitiveness, adrenaline, and team strategy high. 
Archery Arena always allows outside food, and during private weekday bookings free BYOB is allowed.
2) Go to the beach
Although we're in the Midwest, sometimes your team just needs a day at the beach. Cincinnati has two awesome options for some urban sand volleyball.
50 West Brewing has two outdoor sand volleyball courts to complement their full brewery. They host a league on weekday evenings so inquire about availability!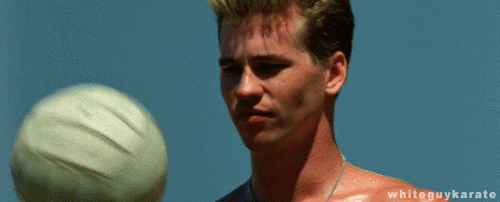 Image courtesy of Giphy (and the movie Top Gun)
3) Take a tour (with food and drink, of course)
Tired of taking out of town team members or clients to the same boring restaurants? Cincinnati Food Tours ups the ante with a variety of food and drink tours. Their curated tours mix in a healthy dose of history to show your guests what Cincinnati is all about.
Their Original Findlay Market Tour is a great way to try everything that Findlay Market has to offer. Or learn the history of Over-The-Rhine while adding some wine and beer on their Over-The-Rhine Tour. Their tours all feature independently owned local businesses, so no Skyline Chili on these tours.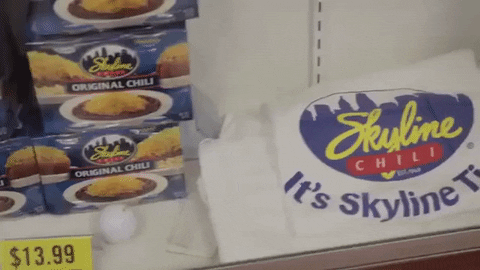 4) Get stuck together… and escape!
The first escape room was pioneered in Japan only 12 years ago, in 2007. Since then escape rooms have spread like wildfire and are now a worldwide phenomenon. Much of that growth has been a result of their near perfection as a team building activity.
Players are locked (well technically the door is unlocked, but you can imagine) in a room with only an hour to solve a mission. To do so they have to work together to solve a series of puzzles.
Although the early escape rooms were fairly simple creations, today's often involve elaborate settings and multiple rooms. Two of our favorites are Houdini's Room Escape and Breakout Games.
Video courtesy of Breakout Games / Youtube
5) Build a house
Sometimes the best thing you can do for yourself is to give back to others. Habitat for Humanity uses volunteers to build affordable housing for families in the Tri-State area.
Volunteer shifts are offered Wednesday-Saturday, 8:30 am – 4:00 pm. Each site can accommodate up to 15 volunteers.

6) Go on a high speed chase
For teams that love adrenaline, it's hard to beat high speed go-karts. Located just up the block from us in West Chester, Full Throttle has one of the fastest indoor tracks in North America with speeds of up to 40MPH (!).
Full Throttle also has a full bar and catering menu, as well as private meeting spaces. They also have their own Axe Throwing range if just one adrenaline packed activity simply isn't enough.
Mario costumes are encouraged. Throwing bananas on the track might get you ejected though.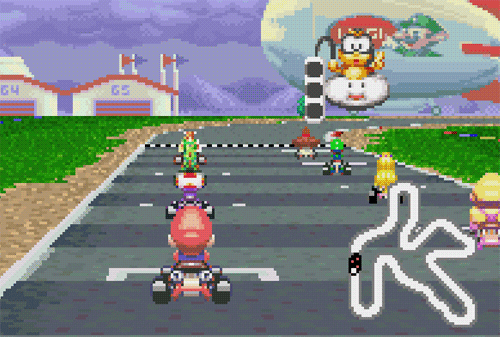 7) Learn to throw axes
Axe Throwing venues have been taking the country by storm, and are super popular for team building outings.
Each group is assigned a coach, who will teach people the basics of throwing an axe, lead the team through a series of competitive games, and oversee safety.
Axe Throwing can be done by anyone of any size, creating an equal opportunity for anyone on your team to be crowned the axe throwing king or queen. Strength, brains, fancy degrees, and positions in the company are all left on the sidelines when each member steps into the axe throwing lane. 
Cincinnati currently boasts multiple Axe Throwing ranges, allowing you to pick the most convenient. Two of our favorites are Class Axe Throwing in West Chester  and Urban Axes downtown. Both companies operate Axe Throwing ranges across the country, so they know how to host your team for a fun (and safe) outing!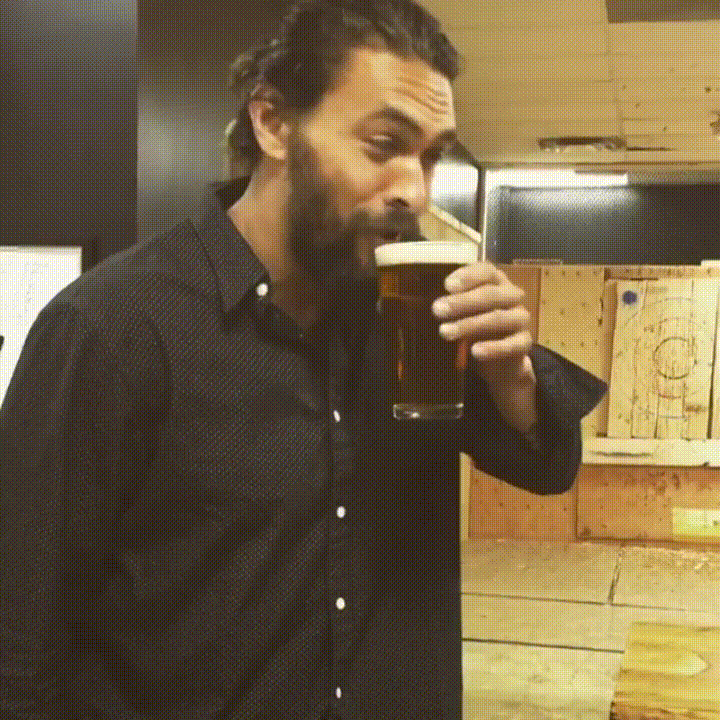 8) Hit golf balls
While golf has been a corporate staple for decades (centuries?), TopGolf added technology to make golf a team building favorite across the country. By putting RFID chips in the golf balls, TopGolf is able to make golf a bit more like bowling (in a good way). While golf skills still help, gone are the days of digging around in the weeds.
TopGolf also has a full stocked food and drink menu.
https://gph.is/2CqdoZ2
9) Have a nerf battle
Ok, this is another shameless plug on our behalf. Archery Arena also hosts some wild nerf battles, at our co-branded Dart Arena.
Although traditionally a kids activity, we host teams of adults that want the rush of being a kid again. We have the whole range of Nerf Rival guns (the ones that shoot little nerf balls instead of darts), for an action filled experience. We're still waiting patiently to find the first person that doesn't enjoy shooting their co-workers with nerf guns.
10) Do happy hour at the arcade
Sometimes your team wants to keep it simple and is really just in the mood for a happy hour. Depending on where you're located, Cincinnati offers two bars that come complete with all of the arcade classics for free with drink purchase (pinball is paid… we're told all of the fun moving parts on pinball machines break a lot, and are fairly expensive to maintain). 16 Bit Bar+Arcade is located in Over-the-Rhine, while Arcade Legacy: Bar Edition is located in Northside.
Every team needs a reigning pac-man champion.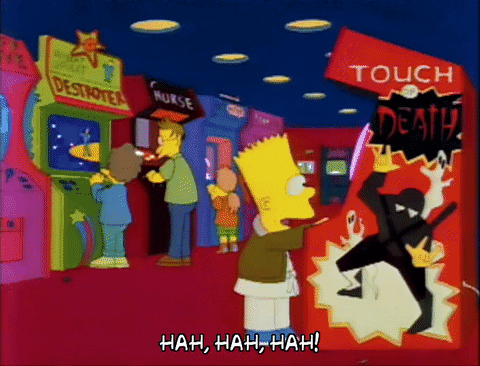 11) Sing to each other
Karaoke has always been a bit of team building classic, even if it wasn't formally called "karaoke". What team doesn't have fond memories of someone breaking out in song at work or at a happy hour. Now, Tokyo Kitty ups the ante with dedicated, private karaoke rooms. Located in the heart of downtown Cincinnati, with all the style and flare of being in downtown Tokyo.
Runner Up: Just watch the new Top Gun together
If you couldn't tell from the gifs, we're big fans of the classic. And now with Top Gun: Maverick finishing its tour of the big screens there's only a bit of time left for you and your team to see it together.